2-Day Ghost Rescue, Property Cleansing, and Spirit Connection Workshop
Learn to find, communicate with, and send earth-bound spirits to the light.
Notice: Workshops & Programs
Develop Spirit Communication Techniques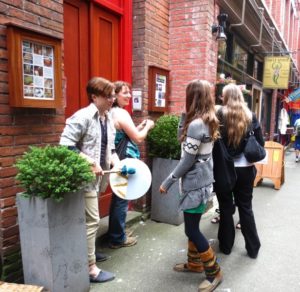 During this two-day hands-on workshop you will open up to the awareness of your own psychic abilities as you experience the many ways in which you can communicate with spirits; whether they are earth-bound ghosts, spirit guides, angels, or your higher self/wisdom. This workshop will assist you in developing and honing in on these psychic abilities to discover how to interperet messages from spirits.
Clairvoyance (seeing), Clairaudience (hearing), Clairsentience (feeling), Claircognizance (knowing) are all psychic abilities that many people have but don't know how to use. These forms of higher communication can be utilized and trained to achieve direct communication with the divine and other spirits.
Combined with Energy Clearing Techniques
The presence of energy is easy to detect with awareness. Upon entering a space, our energetic bodies receive the vibrations of joy or grief, comfort or discomfort. The story immediately unfolds from the energies that are present. If you find a space to be heavy in energy or it gives you a creepy feeling, that is a sign that it needs a good cleanse. People would generally follow their gut feeling on whether to stay or leave in these situations; however, this workshop focuses on empowering you to raise the vibration and cleanse spaces using a handful of techniques including: visualization, physical cleansing ceremony, herb burning, communication, and more.
There are many forms of unsettled energies that come from spirits, ghosts, animals, people and events arising from thoughts, feelings and emotions as a result of crime, abuse, family trauma that once was or is now occupying the space. Whether it occurred a few minutes or years ago, the energy may linger in buildings or on a property until it is cleansed.
With confidence in communication with spirits and detecting energy, practitioners will learn how to cleanse a space, building, vehicle, and objects of contaminated energy and unwanted spirits.
DURING THIS WORKSHOP YOU WILL:
Learn about Spirits, Ghosts, Guides, Higher Self, Soul, & the Higher Power
Hear and Listen to communication with Spirits
Learn How to Ask for and Receive answers
Protect self from Lower Vibrations (contaminated energy)
Increase your being to a Higher Vibration (positive energy)
learn what tools work for you to detect lower vibrations
Discover techniques for cleansing space with drums, rattles, feathers, smudge, symbols, communication and/or cedar sweeping
Cleansing Self, Others, Property, and Items such as Jewelry
Sending Earth-Bound Spirits and Unwanted Energy to the Light – with Love Learn
Exercises to Open your Third Eye
Receive Third Eye Attunement
Spirit Releasement for those who have had unwanted energies/spirits hanging out with them, which they are unaware of. (99% these energies are created by individuals fears)
Calling in Divine Beings such as Spirit Guides, Archangels, Angels Ascended Masters and More to assist in Cleansing.
Cleanse either a House or Public Space of Unwanted Energy and Spirits.
$396.80 + GST = $416.64
INCLUDES:
Feather
Sacred Smudge
Course Material
Awareness that is Priceless
Cheque or eTransfer (Preferred)
Paypal
CURRENTLY AVAILABLE SERVICES
Photo links below represent Cheryl's currently available services, ceremonies, and workshops. Many workshops for 2017 are currently on hold, join Cheryl's newsletter to keep up to date with everything she has to offer.
Hover over the pictures to learn more.
Receive Updates on Workshops & our Newsletter
TESTIMONIALS
Working with Cheryl Dawn and A Journey with Your Spirit is an experience you will always remember!
We invite you to experience our workshops and one-on-one healing to take control of your life, and release everything that is not serving your higher self.