Crystal Chakra Balancing & D.E.R. Workshop
Notice: Workshops & Programs
WHAT ARE CHAKRAS?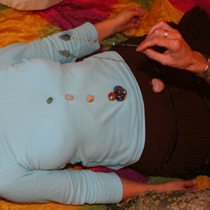 Crystal Chakra BalancingMany cultures today, and dating back thousands of years, describe energetic centers of the body called chakras. Without this vast energy system we would not be able to exist on earth. Religions such as Hinduism, Buddhism, Kaballah, and many other spiritual traditions all depict this concept in their own unique way. No matter the way in which this is illustrated, it is our aura and chakras that work hand in hand to maintain our energetic and physical existence.
A chakra is an energy center that spins Life Force Energy also known as, Chi, Prana, Ki, Divine Light and more, throughout our physical and light (aura) bodies. This process is essential for our existence here on earth. The word Chakra is derived from Sanskrit and roughly translates to "wheel of light". There are both major and minor chakras within the chakra system.
Through regular crystal chakra balancing and other healing techniques, your energy field will be cleansed and balanced. This allows the Chakras to stabilize and vibrate in perfect divine harmony, therefore creating a new level of higher awareness.
WHAT IS DEEP EMOTIONAL RELEASE (or D.E.R.)?
Our technique of deep emotional release is tapping into our conscious and subconscious mind to communicate with self to assist us in resolving issues, trauma, old patterns, and behaviors so that we may raise the vibration of our being, which in turn assists in raising the vibration of mother earth and all that is.
EMPOWER YOUR LIFE!
In this course you will learn one of the safest healing modalities, crystal chakra balancing. Crystal chakra balancing works on your aura and physical body at the same time – a truly amazing experience! This will bring awareness allowing us to be present with our truth which creates a magical space for us to embark on a journey of letting go of what no longer serves our highest good.
DURING THIS WORKSHOP YOU WILL:
Master Quick Grounding & Shielding Techniques, protecting yourself from unwanted energy (old beliefs, thoughts, feelings, and emotions)
Discover the Chakras and why color is very important in our lives
Learn Chakra Balancing with a Crystal Pendulum & Gem Stones (for full body treatment)
Attain Techniques to Release Old Thoughts, Memories, or Events that may be Causing you Illness, Pain, or Stress (with and without a crystal). Belief systems will be touched on in this course.
All the tools (crystal pendulum and 7 gem stones) you learn to work with is a gift for you
Discover Chanting for Vibrational Healing to Balance the Chakras
Gain knowledge of Quick & Easy Techniques to Release Pressure-causing Pain
Receive a Full Crystal Chakra Balancing Treatment along with a Deep Emotional Release Treatment
$198.40 + 9.92GST (Total: $208.32)
INCLUDES:
Certificate Crystal Pendulum
7 Gemstones for the Chakras
Class Material
2 Transformational Treatments that you'll receive during the workshop
Cheque or eTransfer (Preferred)
Paypal
WORKSHOPS & SERVICES
We believe It's not what you have managed to own or what name you built for yourself that matters. It's what you shared, full of love and balanced compassion, with your teachings to others that's important. It creates harmony for all that is while shifting the energy of the Universe to a higher vibration. We are each other's teacher.
Many workshops for 2017 are currently on hold, join Cheryl's newsletter to keep up to date with everything she has to offer.
Receive Updates on Workshops & our Newsletter
TESTIMONIALS
Working with Cheryl Dawn and A Journey with Your Spirit is an experience you will always remember!
We invite you to experience our workshops and one-on-one healing to take control of your life, and release everything that is not serving your higher self.