2 Day Color, Breath, Sound, & Wand Workshop
Notice: Workshops & Programs
The Power of Shamanic Healing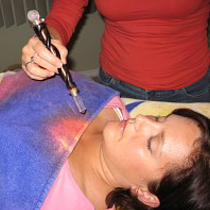 Experience these fun and easy gifts, feel the vibration of color, dress and surround your world with intentional color to change your life and how you feel.
Breath is our life force medicine, it keeps us nourished, aware and well. Lets learn how to merge that into our daily routine to lower stress and reduce pain.
Our guest this workshop this Sunday Nov 6th is Tom Woloshyn the author of Complete Master Cleanse. He is teaching the Color Therapy and will touch on the essential oils that you may want to add to your practice.
DURING THIS WORKSHOP YOU WILL:
Experience Color Meditation Techniques for Cleansing the Chakras
Learn to how to work with the Healing color lamp with Tom Woloshyn – Color therapy
Learn to Journey within your own body to Heal, Release, and Balance the Body, Spirit, Soul, and Mind with Shamanic Techniques
Utilize Breath, Color, Sound and Visualization to Remove ongoing pain, unwanted thoughts, emotions, and feelings
Cleanse and Balance the 7 Major chakras and the aura chakras with a wand and sound
Depending on the class we may be doing a session with essential oils for healing with Tom Woloshyn as he is our guest for the Color light healing therapy.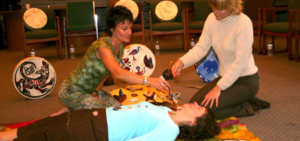 PREREQUISITES:
Level 1 – Crystal Chakra Balancing & Deep Emotional Release (D.E.R.) Having knowledge of the D.E.R. system and how to tap in to the subconscious and conscious mind, facilitating communication with the higher self (the wisdom) that knows what's best for the physical and light bodies is key to a successful healing and balancing of the Body-Mind-Spirit. We call this Spirit-Soul connection work. Our higher self knows all that we are, all that was and always will be. Allowing the Wisdom to assist us in raising our vibration will allow us to live a joyful, peaceful, loving life. Knowing about Chakra colors, and the use of your gifts and intuitions are all concepts taught in Level 1.

$396.80 + GST (Total: $416.64) per person

INCLUDES:
Certificate
Create your own Wand
Course Material
2 Transformational Treatments that you'll receive during the workshop
Cheque or eTransfer (Preferred)
Paypal
CURRENTLY AVAILABLE SERVICES
Photo links below represent Cheryl's currently available services, ceremonies, and workshops. Many workshops for 2017 are currently on hold, join Cheryl's newsletter to keep up to date with everything she has to offer.
Hover over the pictures to learn more.
Receive Updates on Workshops & our Newsletter
TESTIMONIALS
Working with Cheryl Dawn and A Journey with Your Spirit is an experience you will always remember!
We invite you to experience our workshops and one-on-one healing to take control of your life, and release everything that is not serving your higher self.